I don't know if this method is common wisdom but it should be on how to pull the flywheel on the 3yf engine and in this case simultaneously splitting the cases.
Parting out a spare engine time had come to remove the flywheel and open up the case. The standard way for most yamaha 600 and 660s is to use a proper puller (expensive), boiling water and violence. Looking for something unrelated I came across a forum post at mzriders on how to remove the flywheel with just an air wrench and three long bolts threaded through the rotor to put pressure on the starter gear.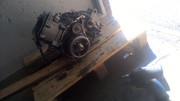 screw the three bolts through the rotor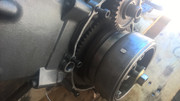 start tightening them evenly and notice gap appearing between gear and rotor. This is going great!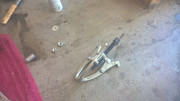 waiting for more water to boil and feeling confident, remove unnecessary tools. This puller was never gonna worky anyway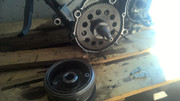 and it's off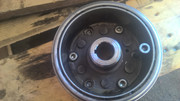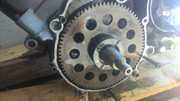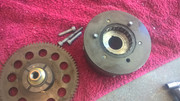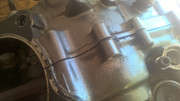 evert bolt holding the cases together were removed prior to this operation so to see it split was the bonus I had hoped for.
air wrench
real good 8mm bolts with at least 40mm thread and 80+mm long. I used allen bolt so got away with 70mm but threaded part was only 30mm that's why 2 almost all 3 broke off right where the thread ends.
time spent was 15 minutes including waiting for the kettle to boil (optional).
was pretty unspectacular with no damage to flywheel and you can barely see three marks where the bolts pushed on the starter gear.
and here's where the idea came from
http://www.mzriders.com/viewtopic.php?f ... =15#p14014
Maybe this works on other Yamahas too? as long as they have that big old gear behind the flywheel